The Dynamic Duos!
Happy National Biscuit Day from Velo Coffee Roasters!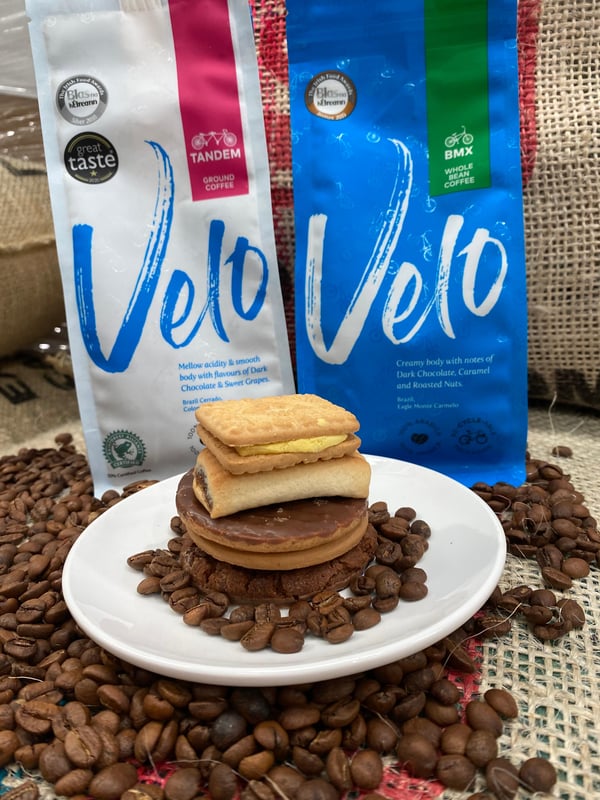 Did you know that May 29th is National Biscuit Day? This is certainly a day that we recognise and celebrate, and we hope you will join us! If you need some more convincing, we have some delicious Velo coffee and biscuit pairing recommendations to share with you! These dynamic duos will certainly sweeten up your day! So, prepare your sweet tooth and keep on reading!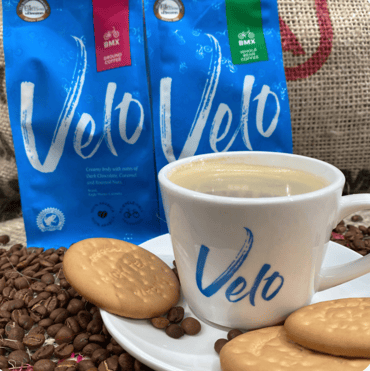 The first pairing we have is a favourite of Rob's. It is our own Velo BMX coffee with a traditional Rich Tea biscuit. Rich Tea biscuits are simple, and incredibly popular. They are always a safe bet, as is our award-winning BMX coffee! Our BMX coffee comes to us from Monte Carmelo, one of our favourite produces in Brazil! With flavour notes of chocolate, dried fruit, sugar cane and nuts, our BMX and a Rich Tea biscuit will make an award-worthy pair for sure!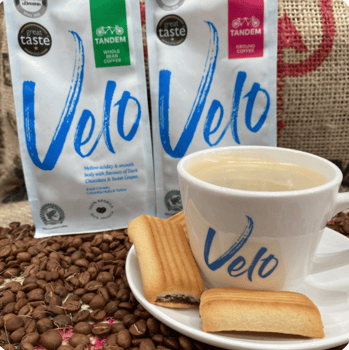 If you're a fan of fruity flavours, this one is for you! Flavours of dark chocolate and sweet grapes in our own award-winning Velo Tandem coffee go fabulously with none other than a Fig Roll! Our tandem is a blend of Brazil and Colombia! The flavours of this coffee make a great cup for any time of day, and the Fig Roll makes for the perfect treat any time of day! Sounds good, right? But the real question is: HOW do they get the fig in the fig roll!?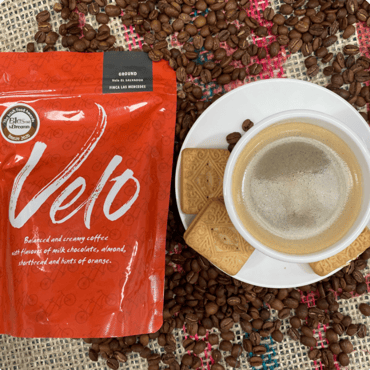 A yummy recommendation from Madyson in the office today is our El Salvador Finca Las Mercedes and Custard Creams! Yum! This coffee has flavour notes of milk chocolate, almond, shortbread, and hints of orange. The medium body and acidity of this coffee makes for a perfect combo with the flavours of Custard Creams! Just the right amount of sweetness! And if that's not enough...
Let's sweeten things up just a bit more!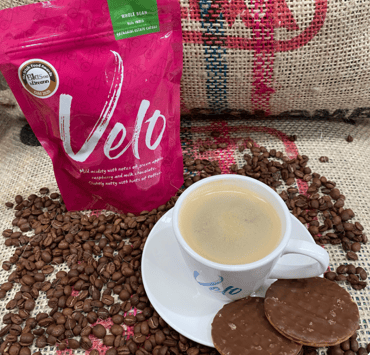 Who doesn't love some chocolate?! Dave here in the office is a big fan of India Ratnagiri Estate coffee, and Milk Chocolate Digestives! This coffee has a nutty and toffee flavour that is balanced with green apple, raspberry, and milk chocolate. Chocolate and coffee are really a perfect pair, and you can never go wrong with a Chocolate Digestive! Our India coffee and Milk Chocolate Digestives are classics on their own- but put them together and WOW!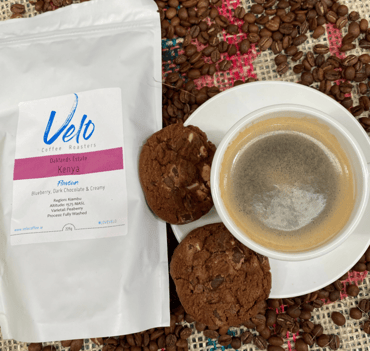 Finally, for our 'sweet finale' (highly recommended by Aoife)! Our Kenya Oaklands Estate coffee paired with Quadruple Chocolate Cookies! *cheers* This Kenyan coffee has flavours of blueberry and dark chocolate! The rich and creamy body of this coffee makes for a great pair with chocolate-loaded cookies! Since we are in Aldi so much, this cookie has definitely become a favourite! And let's be honest- is there really such a thing as 'too much chocolate'?
Hopefully you are treating yourself today with your favourite Velo coffee and your favourite biscuit! The team at Velo Coffee Roasters will certainly be indulging a little extra today with some of the pairings we have mentioned, so feel free to join us!
Hope we could make your day a little sweeter!