Are you a morning person who desperately needs a cup of coffee AND a hearty breakfast in the morning? Are you someone who is constantly rushing around and you can never decide between your cup of Velo coffee or a quick breakfast to-go!? Well, whoever you are, we have the perfect recipe for you!
Get your coffee and your breakfast rolled into one with this delicious smoothie recipe! This is a high fibre and high protein smoothie that is super easy to make. It's the perfect smoothie for everyone – it's dairy free, vegan, and gluten-free (when you use gluten-free oats!) This smoothie is packed full of delicious, healthy ingredients that will keep you going until lunchtime!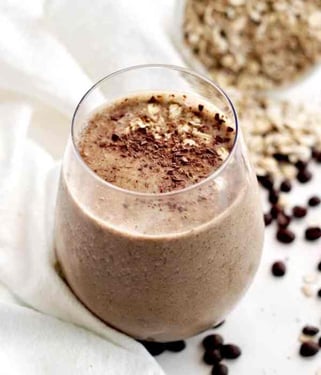 Don't worry! The ingredients are simple, and are probably in your kitchen right now! All you need for this smoothie is:
Ingredients:
¾ cup (~180mls.) of strong-brewed Velo coffee, cooled
½ cup (~120mls.) of milk (we recommend almond milk!)
1 large banana
2 tbsp. of smooth, unsalted almond butter (or any nut butter – mix and match!)
¼ cup (~60 grams) of oats
1 tbsp. of chia seeds
1 tbsp. honey
1 cup (~225 grams) of ice
TIP: For all of you gym rats, make it even higher in protein by adding a scoop of your favourite protein powder. We recommend vanilla or chocolate flavour protein powder!
ENJOY!