Coffee. Travel. Relax. Repeat!
Pack Up the Car, Pack Up the Coffee!
Summer is just around the corner! It's time for traveling, stay-cations, and outdoor activities! Whether you plan on cycling, hiking, camping, or going for a road trip, there is a travel brew method for you!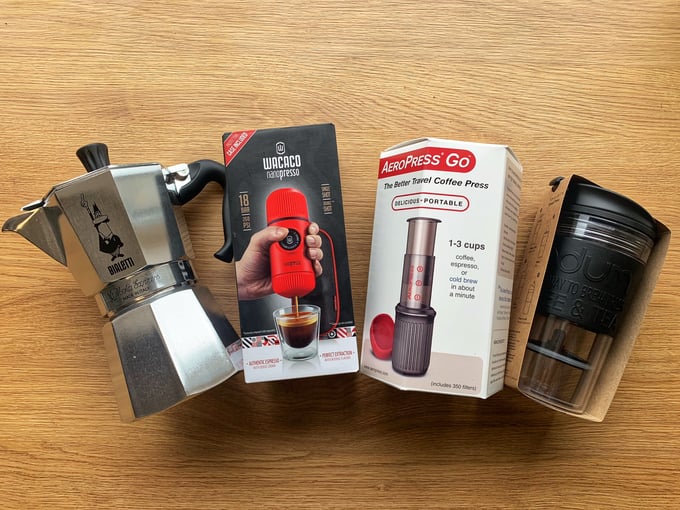 Don't worry, you don't have to miss your morning cup of Velo coffee when you are away from home. "Really!?" Yes! We'll show you!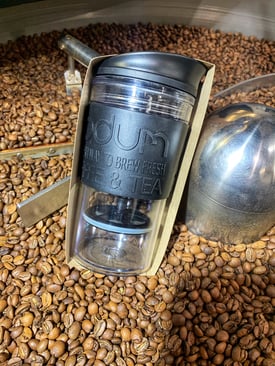 French Press coffee lovers, have no fear! The travel French Press is here! The Bodum Travel French Press is perfect for on-the-go coffee lovers everywhere! Simply add your ground coffee to the thermos with hot water and seal the lid for a delicious cup of coffee! The travel press combines a coffee maker and travel mug all in one! Its durable double-wall construction keeps the brewed coffee hotter for longer and the silicone sleeve adds a safety grip for the mug.
Talk about a 'two-for-one'! This travel press is extremely durable and is sure to keep your coffee hot during your travels!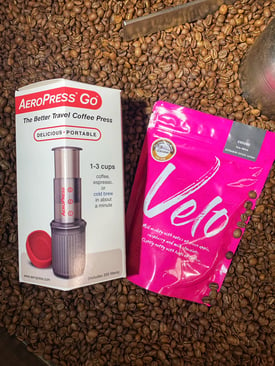 The AeroPress Go travel coffee maker has revolutionised on-the-go coffee brewing. This coffee maker is engineered to fuel an active lifestyle! The AeroPress Go is very light, it takes up little space, and makes some great coffee! Combine coffee and hot water in the brewing cylinder. The AeroPress Go brews Americano, espresso, and cold brew style coffee that can be enjoyed as is or used in a wide range of energising and refreshing drinks.
After the brewing time, gently press down the plunger, and enjoy your Velo coffee (probably with a view!)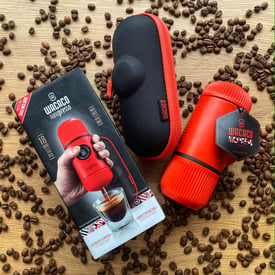 Want to feel like a barista on the go? Impress your friends with the Wacaco Nanopresso! This is a creative and portable espresso machine. Velo just recently welcomed this powerful little machine to our collection, and we are impressed! All you need for your traveling espresso is ground Velo coffee, hot water, and of course, the Nanopresso! This method works best with finely ground coffee that is tamped hard. The Nanopresso is essential for traveling espresso lovers. Its ergonomic design and short length make it the best travel companion!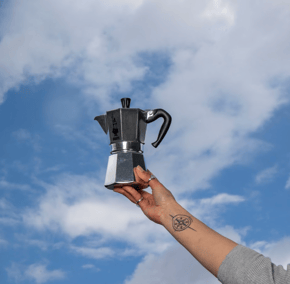 The Moka Pot is a unique way to brew your coffee (and not to mention, it's a classic!)! Moka Pots use pressure to force the water up through the coffee grounds instead of water pouring down through the coffee grounds. Moka Pots are different and adventurous which makes them a great traveling brew method! All you need is a small stove for heat, ground coffee, and of course, your Moka Pot!
If you don't have a grinder, we got you covered! If you're heading on your travels and want to try out some of these methods, Velo has a grinding service for your coffee upon purchase.
Travel on!
No matter where you are traveling, or what you are doing, it's always better when you are caffeinated! You won't regret adding a travel coffee maker to your gear collection.
So, go on the bike trail, hike the mountain, jump in the car! But don't forget- take your coffee with you!